Removing TinyMCE buttons to improve user experience
Description
WordPress has grown so much in the last 10 years, and it is my opinion that it having a visual editor was a great part in it's success. The user experience is enhanced by the ease of use a visual editor provides. But it can also create situations where it compromises the user experience of the final product - the front-end of the site/blog.

It is my opinion that TinyMCE is a blessing and a curse at the same time!!

As we move into the realm of front-end editing, I find it pertinent to address these concerns and potentially help "clean up" TinyMCE and encourage the editors to make better choices when it comes to the use of the visual editor functionalities.

I'm a big fan of keeping things simple and intuitive - less is more. So I propose we remove a few of the TinyMCE buttons for both safety and simplicity's sake:



Underline - It introduces a potentially bad user experience issue: readers confusing the underline text with a link. Underlined text is broadly interpreted as web links.



Alignment buttons - A great way for a user to break the theme!! Alignment should be left to the care of the person who spend hours crafting a great theme with the correct type settings. WordPress is built on this idea of one being able to switch themes and things looks great no matter what. Well, hardcoded styling in a post won't!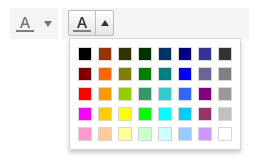 Text Color - same arguments as text alignment. Should an editor really be able to break a theme that was carefully designed with a color palette in mind? Maybe if this came from some kind of theme function (where the theme designer sets a color palette for the editors to use on the visual editor) maybe... but let's not go off topic ;)

---
I know this might encounter some resistance. "Those buttons have always been there", "Users shouldn't loose these options", I can hear some say. Yes, but WordPress at it's core should be a lean user friendly experience, not a bloated one.

Let's discuss! Cheers!