Button focus style improvement
Description
The focus on buttons in a button group is hidden behind the next button and doesn't look great.

See for example - using Chrome browser, insert an image into a post, select image alignment. See screenshot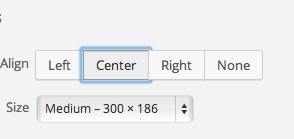 Proposed solution to this is to give the focused button a higher z-index to ensure the focus glow is above the next button.