Allow 0 columns in gallery settings
Description
Gallery columns "0" is a valid setting and correctly outputs a proper CSS class
class="gallery galleryid-43 gallery-columns-0 gallery-size-thumbnail">

Using that CSS class, as a theme author, I could easily build, for example, a grid layout with items displayed inline (or whatever layout other than "columns"), overriding just a very few CSS rules.

I could set columns="0" manually, however, each time I'd edit the gallery settings through the media views UI, columns="0" would be removed and it would fallback to the default 3 columns.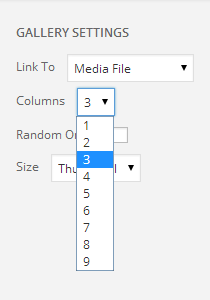 I would propose to add and allow a "none" columns setting, with value "0".

P.S. just noticed: same if I want to add a value higher than "9". Setting an arbitrary limit to "9" is an assumption that, as developers, we shouldn't do. What if I want, say, 10 images per row?