List table: headings for pagination and views links
Description
One of the goals the accessibility team would like to propose for the next release is to improve the overall heading structure in the admin. Together with #31650 there's a lot of room for improvements.

The admin screens based on list tables have at least two places (maybe more) worthy of new headings: the "views" links and the pagination links.

See screenshot (headings are visible to give you an idea, they should be hidden).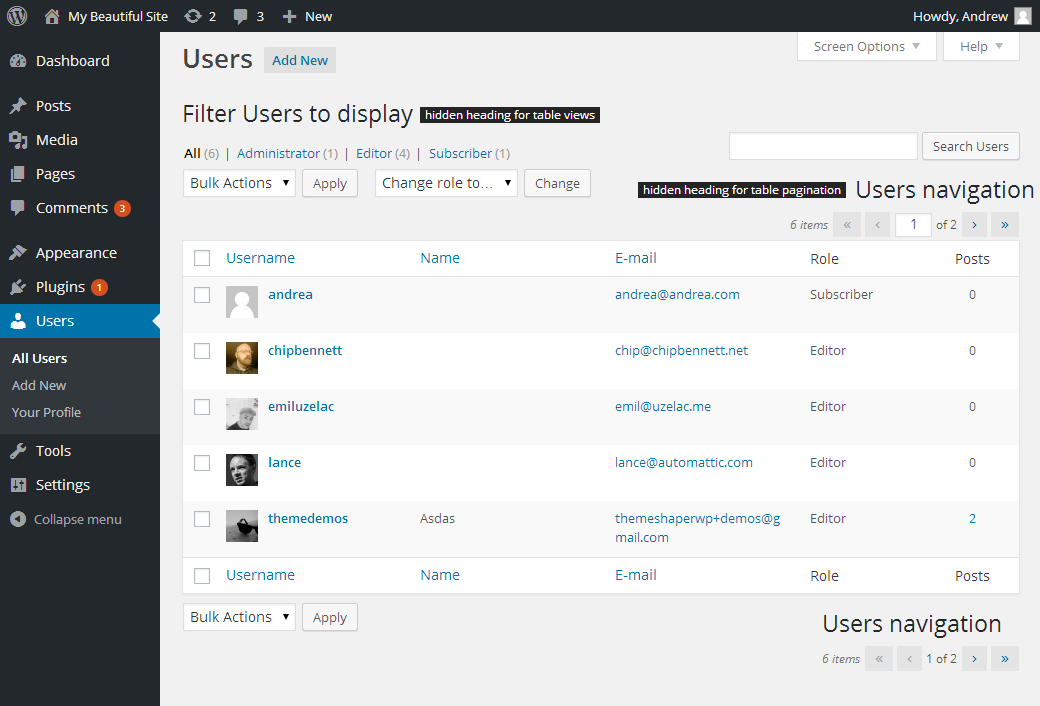 Why this is useful?
Navigating through headings is ​the first thing screen reader users try to find information on a web page. With a few keystrokes you can quickly jump between headings and go directly to the tools you want to use.

For most screens we can just add the strings we need in the $current_screen object.
For posts and taxonomies though, we would need new labels in order to have fully translatable strings. Currently, posts and taxonomies can be provided with labels to be used in visible parts of the interface (e.g. the "Search" button, menu items, etc.) and it would be great to have labels to be used for accessibility purposes as well.

Discussed a bit ​on Slack with @sergeybiryukov we're open to discussion, any thoughts more than welcome.

Some things to discuss:

should bulk actions and other available actions and filters selects have their own headings?
what about adding a new heading right before the table? e.g. "Users list".
better wording for the views links: "Filter xx to display"