Remove title attributes: the terms List Table
Description
See related #24766 and all the following tickets about title attributes.

In the terms List Table, used for Tags, Categories, and custom taxonomies, the main item link has a title attribute that contain the actual action ("Edit"). It should be replaced with an aria-label attribute.

Please notice when a category is a sub-category, the "pad mdash" is displayed in the title attribute and shouldn't be there.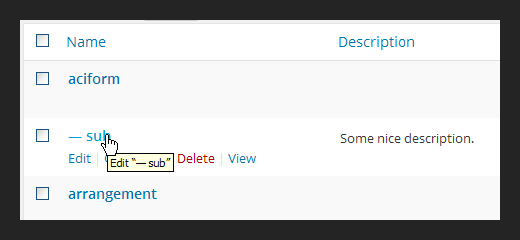 Additionally, as already done in [33087], all the row action links would need to provide better context for assistive technologies. These links text should be expanded using aria-label attributes to reference the item title, so they make sense even when read out of context (this should be done for all the List Tables row action links).