Consider to rethink and improve the list tables pagination links
Description
Splitting this out from #33962. See also #32558.

Quickly discussed at WCEU 2016 Vienna's Contributor Day with @karmatosed and @hugobaeta and noticed the pagination links offer room for design improvements. Looks like there are no apparent reasons (other than historical ones) why the top and bottom pagination links should differ and maybe the editable input field should be displayed only when there are more than 3 pages.

As @helen pointed out, also the interactions could benefit from some rethink.

This would probably be a very nice ticket for designers willing to contribute :)

Current state on 4.6 trunk: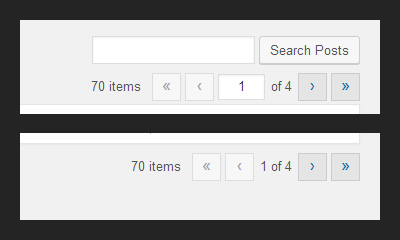 with longer translated strings: