Better titles for the Quick Draft dashboard widget
Description
The "Quick Draft" dashboard widget shows the recent drafts below the form, with a title that says "Drafts":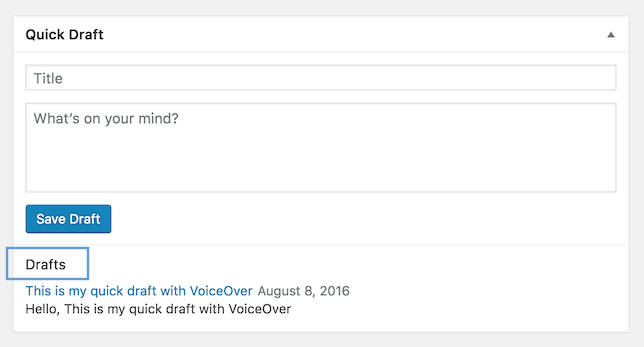 And when JS is off, the widget hides the form and shows just the recent drafts with a "Drafts" title:


By the way, these are just the drafts created by the current user, so if there are drafts from other users, the widget will display just your ones. It's a minor thing for sure, but it's not clear at first sight because the two titles can be a bit misleading. Users may think it's a list of all the drafts (from all users), while it is not.

At the very least, I'd suggest to consider to change the two titles to make them a bit more clear. Maybe using something like "Your Recent Drafts" instead of just "Drafts".

Maybe also worth considering if limiting this list to the current user's drafts makes sense or if it should list all the drafts or maybe both types in two separated lists. Personally, I'd be in favor of keeping it simple.

Worth noting when there are more than 3 drafts from the current user, a "View all" link will appear: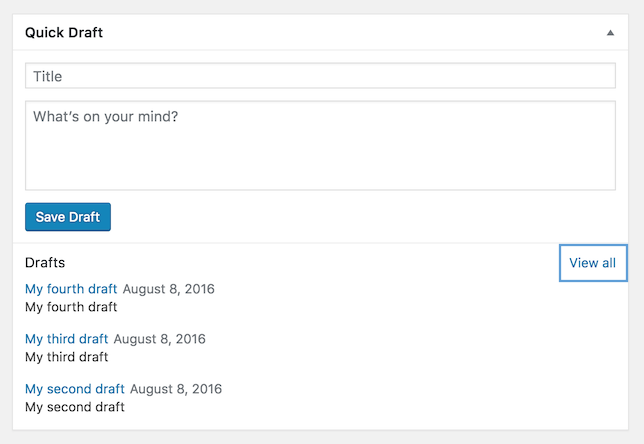 and this link points to the list of drafts from all users which is OK I guess, maybe just needs to be clarified.

Feedback from the UI team more than welcome :)