Twenty Thirteen: Add styles to support the group block
Gutenberg has recently merged in a new "Group" block:

​https://github.com/WordPress/gutenberg/pull/13964
(Renamed "Group" here: ​https://github.com/WordPress/gutenberg/pull/14920)

This block acts as a container for other blocks. The Group block supports standard, wide and full alignments for both itself and its child blocks. The theme requires a patch for both the front end and the editor styles to ensure these alignments appear as indented.

The Group block is currently assigned to the Gutenberg 5.5 milestone. A patch should be merged into Twenty Nineteen alongside that release, to ensure that the Section block works as intended upon release.

In general, standard, wide and full-aligned blocks inside of Group blocks should appear consistent with the way they appear outside of Section blocks. Since Group blocks themselves can in turn be standard, wide, or full-aligned, the behavior of child elements should roughly correspond to the recommendation laid out here:

​https://github.com/WordPress/gutenberg/pull/13964#issuecomment-472562800

For reference, here's a mockup of the current state in Twenty Thirteen (front-end only, but the editor styles should match), compared to the way this should appear instead: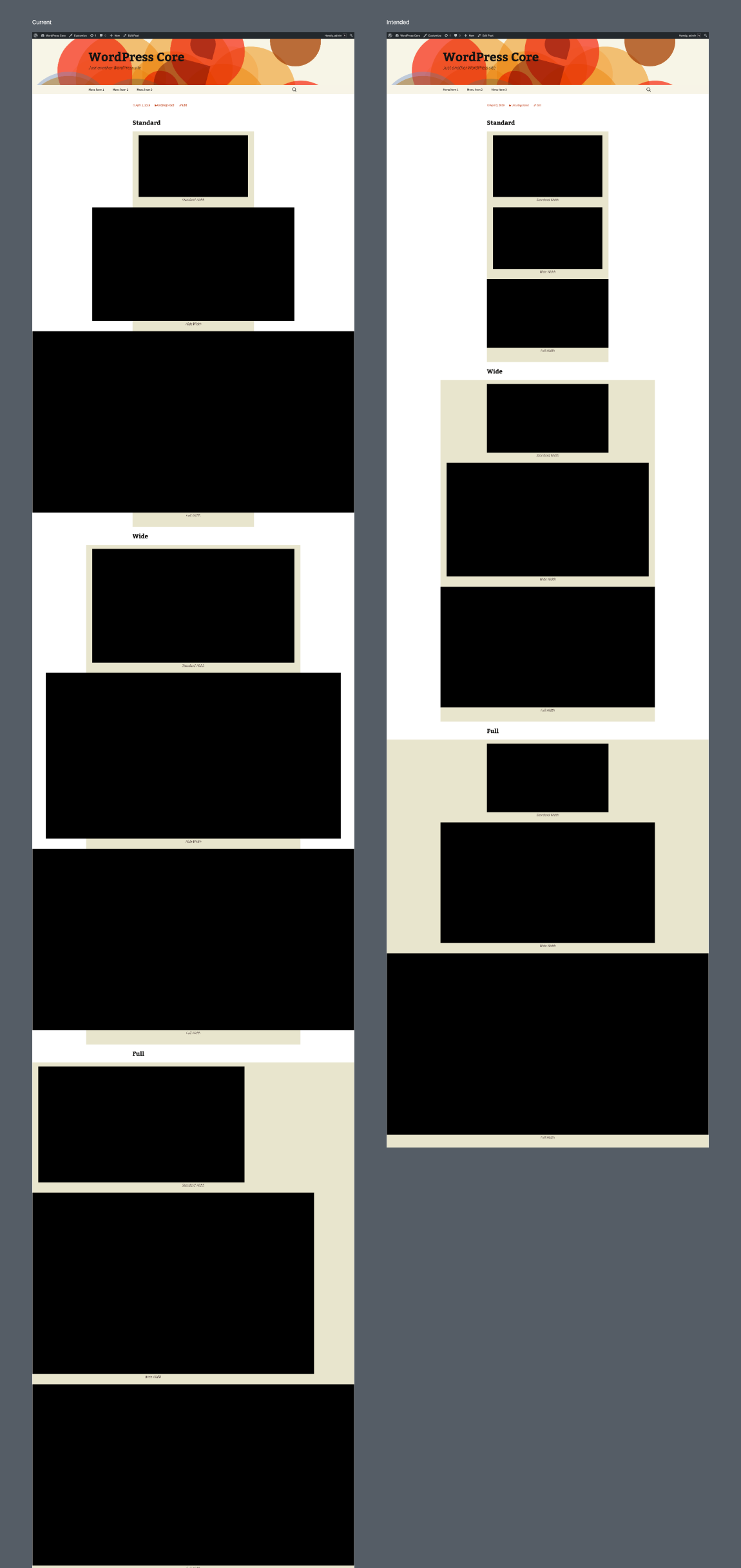 ---
Testing + Dev Notes:

Gutenberg 5.5 is now in plugin form, so the easiest way to test this is to install the Gutenberg plugin on your dev environment:

​

https://wordpress.org/plugins/gutenberg/
Once that's activated, add a new post, and switch to the code view. In that view, paste in this sample content to test a wide variety of Group block alignments, alongside various child blocks:

​

https://cloudup.com/cYDmpgD08FU
Verify that all appears as expected, and that there is no horizontal scroll added to the page. Be sure to test across a wide range of breakpoints as well!
See also: #46750 which handles this change for Twenty Nineteen.